AidEnvironment insights: Gaps and opportunities in EU deforestation regulation and COP26 pledges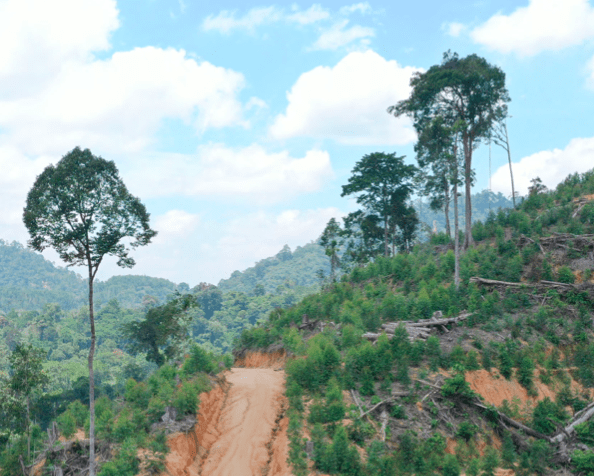 November 2021 has been a month of promises and pledges to safeguard the world's forests and further prevent carbon emissions from deforestation. Apart from the COP26 collective declaration to halt and reverse forest loss and land degradation by 2030, yesterday the European Commission released a proposal for a regulation on deforestation-free products. The law aims to minimize the risk of deforestation in goods, such as palm oil, soy, beef, wood, and some derived products (leather, chocolate, and furniture) sold in the EU market.
The work of Aidenvironment, focusing on key forest-risk commodities in Latin America, Africa, and South-East Asia, sheds light on the probable effectiveness and impact of these deforestation pledges and regulation. We distilled the following gaps and opportunities from our work, with the purpose of strengthening the transition towards deforestation-free commodity production:
HIGH FOREST-RISK COMMODITY LEATHER INCLUDED IN REGULATORY EU PROPOSAL
While there was initial concern that processed products such as leather were not part of the regulatory EU proposal, it is now included as a high-forest risk commodity. A testament to the effectiveness of public advocacy, a group of civil society organisations published a letter to the EU Commission on missing products which contributed to recognising leather as a high-risk forest product. Cited in the letter, our research on leather linked to the European automotive industry for Rainforest Foundation Norway shows that most of the wet-blue hides imported by EU countries from Brazil have high deforestation risk. With Europe being the second largest importer in volume of Brazilian wet-blue hides, leather carries a higher risk of importing deforestation to the EU than beef.
EU FOCUS ON FORESTS LEAVES OUT CRUCIAL BIOMES
The EU regulation uses the FAO definition of forests, leaving out due diligence requirements for other crucial biomes and ecosystems, such as Brazil's wooded savanna, the Cerrado. As the Cerrado stores about 34 percent of Brazil's soil carbon stocks, further clearing will release large amounts of carbon emissions and accelerate climate change. Aidenvironment monitors clearing in the Amazon and non-forested biomes, such as Brazil's Cerrado and the Gran Chaco, and trends show that little environmental protection from tropical forest countries' policies heightens deforestation risk particularly in non-forested biomes. Its exclusion from the proposed regulation is a significant impediment to achieving the EU's climate targets and the COP26 deforestation pledge.
EUROPEAN TIMBER REGULATION PROVED INSUFFICIENT TO SERVE AS A BLUEPRINT
Our recent study on wood entering the EU, commissioned by ClientEarth, suggests that current tools to combat illegal logging such as the European Timber Regulation (EUTR) and the EU Forest Law Enforcement, Governance and Trade (FLEGT) are insufficient, as evidenced by FLEGT-licensed timber linked to tropical deforestation and EU timber operators. Our findings validate concerns that the new EU deforestation regulation, using the existing EUTR as a template, may repeat the flaws of the European timber regulation. A sign of progress, the proposed regulation does not allow for companies to rely only on certification schemes to prove their deforestation-free status.
COMMITMENTS ARE NO GUARANTEE FOR CHANGES ON THE GROUND
The COP26 deforestation pledge and the expected EU regulation reinforces corporate accountability and the deforestation commitments of commodity traders. While on paper key commodity traders have policies to prevent deforestation, Aidenvironment's real-time deforestation monitoring system investigates the actual situation at the location of sourcing. In 21 evidence-based reports on deforestation cases in the past three years, we found that companies' forest commitments frequently fail to deliver. Clearing of native vegetation, fires, and other environmental and social impacts persist in commodity producing farms.
ENVIRONMENTAL POLICIES IN TROPICAL FOREST COUNTRIES FAILED TO ELIMINATE DEFORESTATION
While Aidenvironment welcomes the pledge to eliminate deforestation by 2030 as a crucial breakthrough, our longstanding work in Indonesia and Brazil gives rise to serious doubts about the two countries' latest commitments. In the same week of COP26's deforestation pledge, Indonesia's environment minister labelled the Glasgow pledge as "inappropriate and unfair", and moved to interpret the commitment as "sustainable forest management" and not to "halt deforestation". During the COP26, official data from Brazil showed deforestation alerts in 87,700 hectares in the Amazon biome in October 2021, the largest area for the month since the system was introduced in 2016. In the Brazilian Deputy Chamber, there are currently five Bills under discussion that risk further weakening the legal framework for decreasing deforestation, including amnesty for illegal occupiers of public land, relaxed requirements of the environmental license system, and the protection of Indigenous Territories.
OPPORTUNITIES TO STRENGTHEN THE EU'S REGULATION AND PLEDGES
Aidenvironment's forest strategy is focused on increasing transparency and upholding climate accountability in forest-risk commodity sectors. To urge and strengthen the implementation of zero-deforestation commitments and the proposed EU regulation on deforestation-free products, our strategic focus in the coming years will continue to include:
Deforestation monitoring and action research on commodity supply chains: We will continue to provide actionable and granular data on the point of origin of palm oil, soy, beef, wood, and pulp & paper supply chains to bolster civil society campaigns and investor advocacy efforts that hold companies and governments accountable to their commitments.
Engagement with companies: Aidenvironment's reporting on near real-time deforestation cases is an effective means to engage commodity companies. This can be seen in Mighty Earth's Soy & Cattle Tracker, an engagement tool which ranks soy traders and beef processors according to their performance and response to our reports' cases. Our upcoming projects and partnerships are intended to maintain this traction and escalate engagement with companies that have distinct influence to elevate sector-wide sustainability standards.
Sustainability-focused financial reporting to investors: Our work on Chain Reaction Research continues to inform and engage investors on deforestation risk. With our partners, we are committed to equip the financial sector with actionable data relevant for engaging their portfolio companies.
Reporting on the Brazilian Cerrado: Most of Brazil's high-risk export commodity soy is grown on these wooded grasslands. As in past years, Aidenvironment will continue to expose key soy and beef actors linked to Cerrado deforestation and fires.
---
Join us in continuous discussions about deforestation-free supply chains. Please reach out to Sarah Drost.
More on Aidenvironment's forest strategy here