Realtime Deforestation Monitoring Report (RDM 12)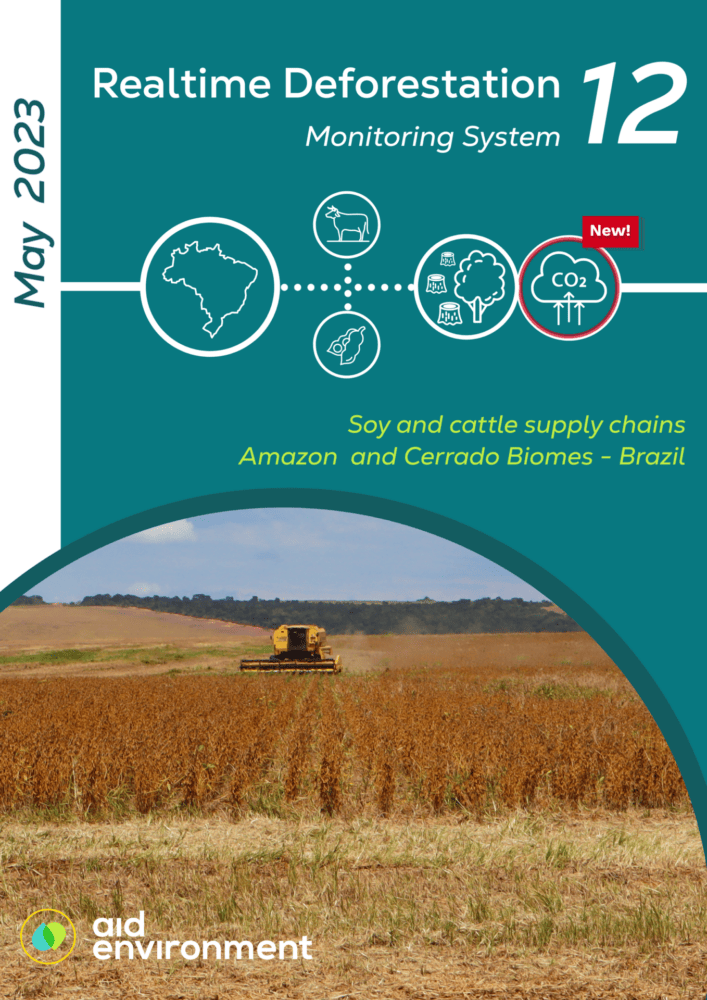 AidEnvironment is introducing a new feature in its RDM reports: The estimation of CO2 emissions derived from the deforestation events included in the reports.
RDM 12 highlights 10 cases in the Cerrado biome, which are mainly linked with soy supply chains. These cases compound a total of 28,432 hectares of deforestation, 56 fire alerts, and more than 2.5 million tons of CO2 emissions. 
The report gathers cases of confirmed deforestation events occurring between July 2022 and April 2023 for which deforestation alerts were detected in March and April 2023. All the 10 cases reported occurred in the Brazilian states of Piauí and Bahia and are exclusively linked to soy supply chains and they have all been connected, with different levels of certainty, to large soy traders such as ADM, ALZ Grãos, Bunge, and Cargill. 
The CO2 emissions reported refer to above-ground carbon emissions and they vary according to the type of vegetation cleared, the ratio of molecular weight of carbon dioxide to carbon, and the amount of vegetation hectares cleared. The total amount found for the 10 cases included in this report are equivalent to 8,510 full roundtrip flights between London and New York or half of all Nicaragua's CO2 emissions in 2021. 
The RDM reports aim to:
Raise awareness on recent deforestation and fire events linked to global commodities' supply chains
Engage commodity producers and traders on real-time deforestation events, and urge them to respond — especially those with commitments to halt deforestation in their supply chains
Support stakeholders in the financial sector and civil society with granular data needed in their due diligence and engagement with companies
Increase transparency in commodity sectors, particularly on companies' no-deforestation commitments and how this is implemented on the ground.
RDM reports are developed to support a wide range of actors – commodity producers and traders, financial sector stakeholders, and civil society – in taking evidence-based action towards real-time deforestation events. AidEnvironment publishes RDM reports monthly with support from EU LIFE Program and the European Climate Foundation.